Announcements:
Cantonment Area Closure: Due to mission requirements involving the temporary housing of Afghan evacuees as part of Operation Allied Refuge, the Cantonment Archery season is being cancelled for the upcoming season starting 18 Sept 2021. Additionally, other activities (i.e. Fishing, Non-Hunting/Non-Fishing activities, Scouting, and Firewood Cutting) will not be allowed within the Cantonment Area until further notice.
Welcome to the Fort McCoy Natural Resources iSportsman System
THIS SITE IS THE OFFICIAL SOURCE TO OBTAIN ALL RECREATIONAL PERMITS ON FORT McCOY. ALL INDIVIDUALS PARTICIPATING IN RECREATIONAL ACTIVITIES ON FORT MCCOY MUST HAVE A FORT MCCOY ISPORTSMAN ACCOUNT USING THIS WEB SITE.
Unexploded Ordnance (UXO) Hazard Map

For more information about UXO Click Here
Hunting, Fishing, Trapping & Firewood Cutting
Welcome to Fort McCoy. Do you enjoy the outdoors?
Fort McCoy offers hunting, fishing, and trapping opportunities to military (active and retired) and their dependents, government employees, and the general public. All participants must have the appropriate Fort McCoy permit and State of Wisconsin licenses before they are allowed to hunt, fish, or trap on Fort McCoy.

Revenue generated from the sale of hunting, fishing, and trapping permits is used for the management of fish and wildlife habitat and populations on Fort McCoy.

Much of Fort McCoy's 60,000 acres is naturally well-suited for wildlife. The majority of the land on Fort McCoy is divided into 82 training areas totaling 45,648 acres, which are available for hunting. Harvest and biological data is collected to monitor wildlife populations and wildlife health.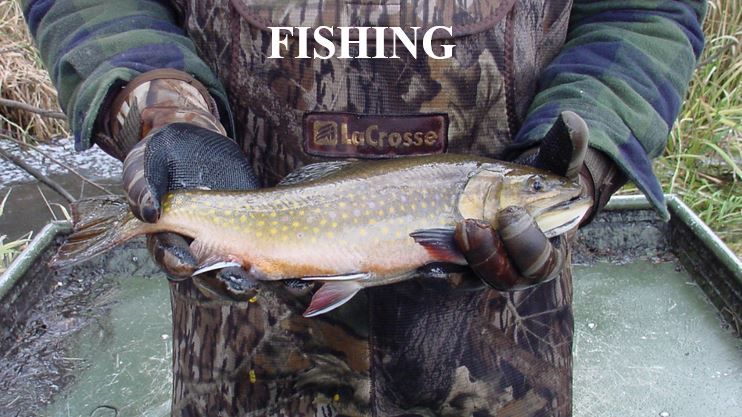 Fort McCoy has 10 installation lakes and impoundments and approximately 71.2 miles of coldwater streams and tributaries. The majority of the streams are Class I trout water maintaining naturally reproducing brook and brown trout. The impoundments on Fort McCoy cold water streams provide a variety of uses for recreation, military training, and habitat for fish and wildlife.

Firewood cutting is allowed on Fort McCoy to help remove dead and downed wood from the training areas. Two permit categories are available: the daily permit costs $10 and allows cutting and hauling firewood for one calendar day, the monthly permit costs $50 and allows cutting and hauling firewood for 30 consecutive days. Income generated through firewood permit sales is deposited into a Department of Army account and used to fund forest management activities.
Accessing Fort McCoy: Anyone participating in any activity (hunting, fishing, trapping, and non-hunting/fishing) must register/create an account using this iSportsman system. This is a one-time registration. If you forget your username/permit number or password/personal identification number (PIN), contact the Permit Sales Office (PSO) to get your account credentials reset instead of creating an additional account. An active email address in your account will allow you to reset a forgotten password directly through iSportsman. Users must then use their iSportsman account during check-in/check-out while participating in hunting and trapping activities on Fort McCoy. Anglers, hunters and trappers that are scouting, and non-hunting/fishing users are not required to check-in/check-out, but must still check the Game Line daily to ensure the area they wish to access is open. Your iSportsman account permit number (Login Id #) will serve as your Fort McCoy customer identifier through iSportsman and must be used when checking into a hunting or trapping activity.
A Fort McCoy iSportsman Annual Access Pass is required for non-hunting/fishing activities such as scouting, hiking, berry picking, etc. To hunt, fish, or trap Fort McCoy requires an iSportsman Annual Access Pass, the appropriate Fort McCoy hunting, fishing, or trapping permit, and the appropriate State of Wisconsin license(s) and stamp(s). The requirement for an Annual Access Pass is waived for anglers during the WDNR Free Fishing weekends in January and June. Fort McCoy permits are not transferable or refundable.
Children under the age of 16 are not required to have an iSportsman account or iSportsman Annual Access Pass when accompanying an adult iSportsman permit holder. An iSportsman account and iSportsman Annual Access Pass are required if the child, any age, intends to fish and maintain a separate bag limit. An iSportsman account and iSportsman Annual Access Pass are required if the child, age 10-15, intends to hold their own hunting or trapping permit. All recreational users need to update their account annually by adding the current license year iSportsman Annual Access Pass. The iSportsman Annual Access Pass is valid from March 1 through the last day in February each year. An iSportsman Annual Access Pass serves as the permit for non-hunting/fishing recreational activities outlined in the hunting regulations. Please review all regulations and rules prior to your activity.
For additional information or for technical difficulties please contact the Fort McCoy Permit Sales Office at 608-388-3337 or e-mail inquiries to usarmy.mccoy.id-readiness.mbx.dpw-permit-sales@army.mil