Welcome to the Fort McCoy iSportsman System
THIS SITE IS NOW THE OFFICIAL SOURCE TO OBTAIN ALL RECREATIONAL PERMITS ON FORT McCOY. ALL INDIVIDUALS PARTICIPATING IN RECREATIONAL ACTIVITIES ON FORT MCCOY MUST HAVE A FORT MCCOY ISPORTSMAN ACCOUNT USING THIS WEB SITE.
SEE PERMIT INFO TAB IN MAIN MENU FOR FURTHER DETAILS AND PERMIT REQUIREMENTS.
To help protect recreationists from the spread of COVID-19, particularly those who are most vulnerable to infection and severe disease, staying home as much as possible is the best way to lower COVID-19 infection rates, according to the Centers for Disease Control and Prevention (CDC). Distance is key during this public health emergency. Social distancing – the practice of keeping at least six feet apart from others and avoiding direct physical contact – is the only effective means of slowing the rate of infection.
Hunting, Fishing, Trapping & Firewood Cutting
Welcome to Fort McCoy. Do you enjoy the outdoors?
Fort McCoy offers hunting, fishing, and trapping opportunities to military (active and retired) and their dependents, government employees, and the general public. All participants must have the appropriate Fort McCoy permit and State of Wisconsin licenses before they are allowed to hunt, fish, or trap on Fort McCoy.

Revenue generated from the sale of hunting, fishing, and trapping permits is used for the management of fish and wildlife habitat and populations on Fort McCoy.

Much of Fort McCoy's 60,000 acres is naturally well-suited for wildlife. The majority of the land on Fort McCoy is divided into 82 training areas totaling 45,648 acres, which are available for hunting. Harvest and biological data is collected to monitor wildlife populations and wildlife health.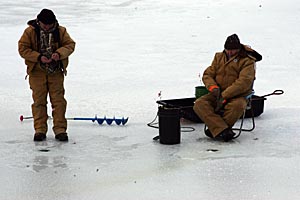 Fort McCoy has 10 installation lakes and impoundments and approximately 71.2 miles of coldwater streams and tributaries. The majority of the streams are Class I trout water maintaining naturally reproducing brook and brown trout. The impoundments on Fort McCoy coldwater streams provide a variety of uses for recreation, military training, and habitat for fish and wildlife.

Firewood cutting is allowed on Fort McCoy to help remove dead and downed wood from the training areas. Two permit categories are available: the daily permit costs $10 and allows cutting and hauling firewood for one calendar day, the monthly permit costs $50 and allows cutting and hauling firewood for 30 consecutive days. Income generated through firewood permit sales is deposited into a Department of Army account and used to fund forest management activities.
All hunting and fishing activities on Fort McCoy require a Fort McCoy permit.
Please explore the website for more-specific information about regulations, obtaining permits, Activity Check-in/Check-out, etc.
Announcements
ATTENTION: Telephone service to Fort McCoy Natural Resource Branch and Permit Sales Office will be down 21-25 June due to continued upgrades and bridge work. If you need to contact the Permit Sales Office the week of June 21-25, please send an email to usarmy.mccoy.imcom-central.mbx.dpw-permit-sales@mail.mil.

The phone line outage will also impact the iSportsman kiosk located at the Hunter Information Point (HIP). If you need to access the Game Line you can call 1-866-277-1597 and follow the prompts for the Game Line and Training Area/Lake closures.

2021 Fall Quota Hunt Permit Applications Now Available (Gun Deer, Youth, Disabled, and Cantonment Archery, Trapping). Make sure to verify your iSportsman account information prior to submitting your online application.
Select the Program Info from the main menu for more information pertaining to hunting and fishing permit requirements.
Fishing, Scouting, and Non-Hunting/Non-Fishing activities are still allowed in open training areas on Ft McCoy (see regulations for permit requirements). Remember to practice safe social distancing, leaving 6 feet between you and anyone you may encounter while in the field. Restrictions do apply to accessing the Cantonment Area. It is the responsibility of the individual recreational participant/permit holder to check the Game Line daily using iSportsman at (866) 277-1597, online through this web site or through the kiosk located at the Hunter Information Point (HIP) for updates, changes, and/or temporary regulations to the activities. All participants within a vehicle are required to display a Fort McCoy Activity Card. The card must show the individuals iSportsman permit number and activity for each permit holder associated with the vehicle for that given days activity. The Activity Card must be placed on the vehicle dashboard and be easily readable through the windshield from the outside of the vehicle.
Check the Game Line: Lake and Training Area Closures
The Game Line, accessed by calling (866) 277-1597 or online lists hunting areas and lakes that are closed on any particular day. The Game Line listing will be updated by Directorate of Plans, Training, Mobilization, and Security (DPTMS). Fort McCoy reserves the right to update hunting area closures at any time if needed. ALL individuals are required to check the Game Line daily for any changes. Streams are open to fishing if the training area is closed. If troops are present, find another stream or section of stream to fish. There is no fishing in the North Impact Area.
Click here for Fort McCoy Activity Information Card
Click hereClickFort McCoy Access Pass is required for all activities to include hunting, fishing, trapping, and non-hunting/fishing activities. All recreational users need to update their account annually by just logging in to their iSportsman account. The Fort McCoy Access Pass is valid from March 1 through February 28 every year.
The current Access Pass allows hunters and those scouting the ability to use the Check-in and Check-out system. If you are not able to Check-in, make sure you have the current Access Pass added to your iSportsman account. If having problems, contact the Permit Sales Office at 608-388-3337 for assistance.

Non-hunting/Non-fishing Activities on Fort McCoy: A Fort McCoy Access Pass also serves as the permit for Non-hunting/Non-fishing recreational activities such as bird watching, dog walking, berry picking, mushroom hunting, deer antler shed hunting etc. Non-hunting/Non-fishing activities are not required to Check-in/Check-out but are still required to have the iSportsman Access Pass.
Explore this web site by clicking on the Program Info tab in the menu bar for additional fishing and hunting permit and season information.
For additional information or for technical difficulties please contact the Fort McCoy Permit Sales Office at 608-388-3337 or e-mail inquiries to
usarmy.mccoy.imcom-central.mbx.dpw-permit-sales@mail.mil